Skip to Main Content
It looks like you're using Internet Explorer 11 or older. This website works best with modern browsers such as the latest versions of Chrome, Firefox, Safari, and Edge. If you continue with this browser, you may see unexpected results.
Please note that USEK Library houses the Archives of Maurice Gemayel.
Biography
Lebanese politician, lawyer and economist
Date of birth: 1910
Place of birth: Mansourah, Egypt
Date of death: 31 October, 1970, Beirut
Family: Married Josette Awad and had six daughters
Education: Antoura College; Paris Law University.
Career: He was elected head of the Food and Agriculture Organization (FAO) for two consecutive terms. He created the Ministry of Planning in Lebanon. He was a court attorney, and was elected deputy of Metn in 1960, Minister of State for the Financial Affairs from August 1st, 1960 to May 20, 1961 and re-elected deputy of Metn in April 1964. Gemayel was also member of the Political Office of Phalanges Party (Kataëb).
ولد سنة 1910. درس في معهد عينطورة للاباء العازاريين. حائز على شهادات في القانون الخاص والعلوم السياسية والعلوم الجغرافية من جامعة السوربون -باريس. تمرس في العمل السياسي ضمن حزب الكتائب اللبنانية. نائبا عن المتن الشمالي ووزيرا مكلفا بالشؤون المالية والانماء ومن ثم وزيرا للتصميم العام. توفي سنة 1970
Reference
مركز فينيكس للدراسات اللبنانية. الشيخ موريس الجميل (1910-1970): رجل الدولة ورائد التصميم في لبنان: في الذكرى الاربعين على غيابه. الكسليك: منشورات جامعة الروح القدس-الكسليك، 2011
Maurice Gemayel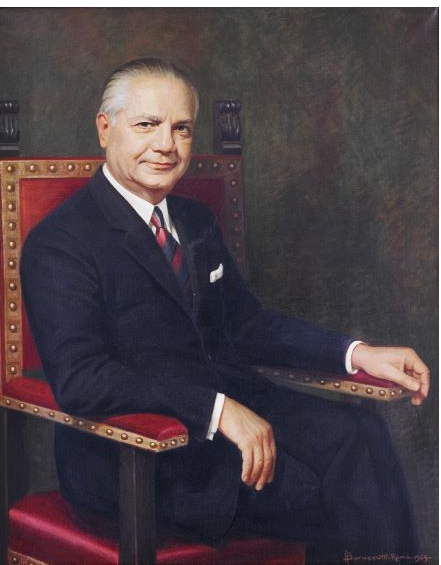 مركز فينيكس للدراسات اللبنانية. الشيخ موريس الجميل (1910-1970): رجل الدولة ورائد التصميم في لبنان: في الذكرى الاربعين على غيابه. الكسليك: منشورات جامعة الروح القدس-الكسليك، 2011
Authority Records
The Authority Record combines:
Multiple name of an author
International Standard Name Identifier (ISNI)
VIAF (Virtual International Authority File) ID
موريس الجميل 1910-1970
Maurice Gemayel 1910-1970
Mūrīs Jumayyil 1910-1970
ISNI|0000000046686109
VIAF ID: 47703860
http://viaf.org/viaf/47703860